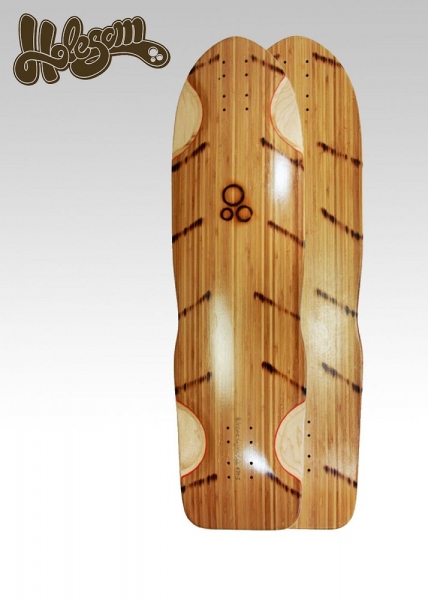 This product is currently not available.
Order number:

2700112

Previous MDCN Artikelnumber:

1211000190
Holesome Longboards and Supplies stehen für Spaß auf vier Rollen und einem Schmunzeln dabei....
more
Product information "HOLESOM - Sexkitten Deck"
Holesome Longboards and Supplies stehen für Spaß auf vier Rollen und einem Schmunzeln dabei. Getreu ihrem Motto Lächle bei jedem Ride und bleib Holesom (löchrig) fordert die Marke aus Kalifornien dazu auf, sich jedes Mal wenn man ein Board mit vier Rollen unter den Füßen hat glücklich zu schätzen, Spaß zu haben, steezy zu bleiben und dabei immer dankbar zu sein für den Spaß den man hat :)Ein weiteres Spielzeug aus de DH- und Freerideserie von Holesom ist das Sexkitten-Deck. Gemacht für hohe Geschwindigkeiten kommt es als super steifes Deck daher, das dich stabil auf der Straße hält wenn es richtig schnell wird. Zusätzlich bietet es dir ein breites Kicktail für satte Freestyle-Action mit Tricks, Kicks, Flips und Turns. Manuals oder Ollies sind kein Problem, denn der ganze Fuß findet Platz auf dem weiten aufgebogenen Tail. Vor Wheelbites bewahren dich die ausgefrästen Wheelwells und erlauben dir enge Turns auch wenn du einfach mal gemütlich Cruisen willst. Bei hohen Geschwindigkeiten hält das tiefe Concave deine Füße auf dem Board und bietet dir viele Druckpunkte für deine Zehen und Fersen damit du beim Sliden gut stehst. Der milde Rocker hilft deine Füße perfekt einzulocken und gibt dir ein angenehmes Boardgefühl und beste Orientierung. Konstruiert wurde das Deck aus einer Kombination von Bambus, Hanf und Ahornholz, die das Deck absolut steif und langlebig machen. Dieses Deck ist der ideale Begleiter für deine Action auf den Hügeln und lässt sich gleichzeitig als Allroundboard im Bereich Freestyle sowie Cruising und Carving einsetzen. Also nichts wie rauf auf das Sexkitten und gemeinsam den Hügel runter!Downhill- und Freeride LongboardVoll-funktionales KicktailAusgefräste Wheelwells Rocker und ConcaveBambus- HanfkonstruktionLänge 35.65 InchBreite 9.7 InchWheelbases 23.5 Inch, 24.5 Inch, 25.25 Inch
Related links to "HOLESOM - Sexkitten Deck"
array(2) { [0]=> array(5) { ["id"]=> int(23) ["name"]=> string(17) "Wheelgröße (MM)" ["description"]=> NULL ["position"]=> int(0) ["options"]=> array(1) { [0]=> array(6) { ["id"]=> int(3290) ["groupId"]=> int(23) ["name"]=> string(5) "60 MM" ["position"]=> int(250) ["mediaId"]=> NULL ["articles"]=> array(1) { [0]=> array(27) { ["id"]=> int(15431) ["articleId"]=> int(6969) ["unitId"]=> NULL ["number"]=> string(21) "1231000164-ROT-600-80" ["supplierNumber"]=> string(10) "1231000164" ["kind"]=> int(1) ["additionalText"]=> string(11) "60 MM / 84a" ["active"]=> bool(true) ["inStock"]=> int(0) ["stockMin"]=> int(0) ["lastStock"]=> bool(true) ["weight"]=> NULL ["width"]=> string(5) "0.000" ["len"]=> string(5) "0.000" ["height"]=> string(5) "0.000" ["ean"]=> string(13) "4053675083799" ["purchasePrice"]=> float(0) ["position"]=> int(0) ["minPurchase"]=> int(1) ["purchaseSteps"]=> int(1) ["maxPurchase"]=> NULL ["purchaseUnit"]=> NULL ["referenceUnit"]=> NULL ["packUnit"]=> string(4) "Stk." ["shippingFree"]=> bool(false) ["releaseDate"]=> object(DateTime)#3476 (3) { ["date"]=> string(26) "2016-12-31 00:00:00.000000" ["timezone_type"]=> int(3) ["timezone"]=> string(13) "Europe/Berlin" } ["shippingTime"]=> string(1) "0" } } } } } [1]=> array(5) { ["id"]=> int(26) ["name"]=> string(15) "Wheel Durometer" ["description"]=> NULL ["position"]=> int(0) ["options"]=> array(1) { [0]=> array(6) { ["id"]=> int(760) ["groupId"]=> int(26) ["name"]=> string(3) "84a" ["position"]=> int(250) ["mediaId"]=> NULL ["articles"]=> array(1) { [0]=> array(27) { ["id"]=> int(15431) ["articleId"]=> int(6969) ["unitId"]=> NULL ["number"]=> string(21) "1231000164-ROT-600-80" ["supplierNumber"]=> string(10) "1231000164" ["kind"]=> int(1) ["additionalText"]=> string(11) "60 MM / 84a" ["active"]=> bool(true) ["inStock"]=> int(0) ["stockMin"]=> int(0) ["lastStock"]=> bool(true) ["weight"]=> NULL ["width"]=> string(5) "0.000" ["len"]=> string(5) "0.000" ["height"]=> string(5) "0.000" ["ean"]=> string(13) "4053675083799" ["purchasePrice"]=> float(0) ["position"]=> int(0) ["minPurchase"]=> int(1) ["purchaseSteps"]=> int(1) ["maxPurchase"]=> NULL ["purchaseUnit"]=> NULL ["referenceUnit"]=> NULL ["packUnit"]=> string(4) "Stk." ["shippingFree"]=> bool(false) ["releaseDate"]=> object(DateTime)#3477 (3) { ["date"]=> string(26) "2016-12-31 00:00:00.000000" ["timezone_type"]=> int(3) ["timezone"]=> string(13) "Europe/Berlin" } ["shippingTime"]=> string(1) "0" } } } } } } array(2) { [0]=> array(5) { ["id"]=> int(24) ["name"]=> string(19) "Trucksize Longboard" ["description"]=> NULL ["position"]=> int(0) ["options"]=> array(1) { [0]=> array(6) { ["id"]=> int(745) ["groupId"]=> int(24) ["name"]=> string(6) "180 MM" ["position"]=> int(190) ["mediaId"]=> NULL ["articles"]=> array(1) { [0]=> array(27) { ["id"]=> int(4531) ["articleId"]=> int(967) ["unitId"]=> NULL ["number"]=> string(17) "1221000058-180-42" ["supplierNumber"]=> string(10) "1221000058" ["kind"]=> int(1) ["additionalText"]=> string(13) "180 MM / 42°" ["active"]=> bool(true) ["inStock"]=> int(0) ["stockMin"]=> NULL ["lastStock"]=> bool(true) ["weight"]=> NULL ["width"]=> string(5) "0.000" ["len"]=> string(5) "0.000" ["height"]=> string(5) "0.000" ["ean"]=> string(13) "4053675053570" ["purchasePrice"]=> float(0) ["position"]=> int(0) ["minPurchase"]=> int(1) ["purchaseSteps"]=> int(1) ["maxPurchase"]=> NULL ["purchaseUnit"]=> NULL ["referenceUnit"]=> NULL ["packUnit"]=> string(4) "Stk." ["shippingFree"]=> bool(false) ["releaseDate"]=> object(DateTime)#3490 (3) { ["date"]=> string(26) "2016-03-31 00:00:00.000000" ["timezone_type"]=> int(3) ["timezone"]=> string(13) "Europe/Berlin" } ["shippingTime"]=> string(1) "0" } } } } } [1]=> array(5) { ["id"]=> int(25) ["name"]=> string(10) "Truckangle" ["description"]=> NULL ["position"]=> int(0) ["options"]=> array(1) { [0]=> array(6) { ["id"]=> int(746) ["groupId"]=> int(25) ["name"]=> string(4) "42°" ["position"]=> int(300) ["mediaId"]=> NULL ["articles"]=> array(1) { [0]=> array(27) { ["id"]=> int(4531) ["articleId"]=> int(967) ["unitId"]=> NULL ["number"]=> string(17) "1221000058-180-42" ["supplierNumber"]=> string(10) "1221000058" ["kind"]=> int(1) ["additionalText"]=> string(13) "180 MM / 42°" ["active"]=> bool(true) ["inStock"]=> int(0) ["stockMin"]=> NULL ["lastStock"]=> bool(true) ["weight"]=> NULL ["width"]=> string(5) "0.000" ["len"]=> string(5) "0.000" ["height"]=> string(5) "0.000" ["ean"]=> string(13) "4053675053570" ["purchasePrice"]=> float(0) ["position"]=> int(0) ["minPurchase"]=> int(1) ["purchaseSteps"]=> int(1) ["maxPurchase"]=> NULL ["purchaseUnit"]=> NULL ["referenceUnit"]=> NULL ["packUnit"]=> string(4) "Stk." ["shippingFree"]=> bool(false) ["releaseDate"]=> object(DateTime)#3491 (3) { ["date"]=> string(26) "2016-03-31 00:00:00.000000" ["timezone_type"]=> int(3) ["timezone"]=> string(13) "Europe/Berlin" } ["shippingTime"]=> string(1) "0" } } } } } }