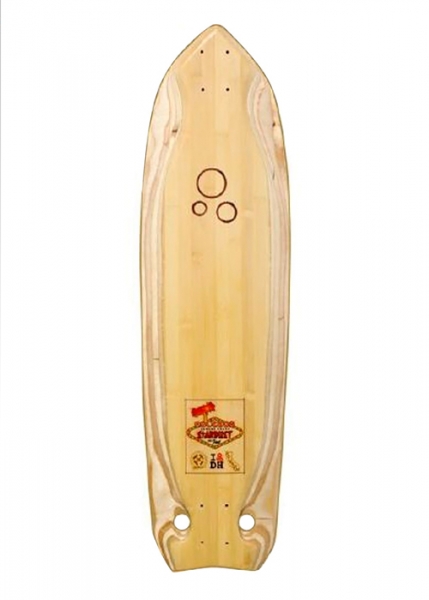 This product is currently not available.
Order number:

1211000188

Previous MDCN Artikelnumber:

1211000188
Holesome Longboards and Supplies stehen für Spaß auf vier Rollen und einem Schmunzeln dabei....
more
Product information "Holesom Deck Stardust"
Holesome Longboards and Supplies stehen für Spaß auf vier Rollen und einem Schmunzeln dabei. Getreu ihrem Motto Lächle bei jedem Ride und bleib Holesom (löchrig) fordert die Marke aus Kalifornien dazu auf, sich jedes Mal wenn man ein Board mit vier Rollen unter den Füßen hat glücklich zu schätzen, Spaß zu haben, steezy zu bleiben und dabei immer dankbar zu sein für den Spaß den man hat :)Das Stardust Deck von Holesom ist für Geschwindigkeit gemacht und fühlt sich im Bereich Downhill und Freeride zu Hause. Mit dem Stardust Deck hinterlässt du neben dem Sternenstaub nur noch eine Staubwolke auf dem Hügel deines Vertrauens. Denn es ist gemacht für Speed. Daher kommt es in einer kompakten Größe und verzichtet auf jedes überflüssige bisschen Material, das dich bremsen könnte. Es läuft vorne spitz zu und hat hinten einen breiten Abschluß für einen stromlinienförmigen Flow bei deinem Ride. Das Deck wurde mit leichtem Rocker konstruiert um dir das perfekte Boardgefühl zu bieten. Es besitzt ein tiefes Concave, das an den Stellen für die Füße tiefer wird um dich perfekt in Position zu halten und deine Füße vor dem Verrutschen zu bewahren. Die unteren Rails sind seitlich ausgedünnt und gehen direkt in die ausgefrästen Wheelwells über, die dich in Kombination mit dem Concave und Rocker Galaxien weit von Wheelbites entfernt. Dadurch wird das Deck extrem leicht und bleibt dabei super steif. Im hinteren Bereich des Decks biete es zudem abgeschrägte Gaspedals die dir perfekte Druckpunkte für deine Slides geben und beste Orientierung. Im Alltag wird er zu deinem gemütlichen Cruiser und Craver. Spring auf und hinterlasse Sternenstaub auf deinem Stardust. Downhill- und Freeride-LongboardKompakte GrößeExtrem leicht Tiefes Concave und RockerGaspedalsLänge 35 3/4 InchBreite 9.75 InchWheelbases 27 Inch, 26.5 Inch
Related links to "Holesom Deck Stardust"
array(2) { [0]=> array(5) { ["id"]=> int(23) ["name"]=> string(17) "Wheelgröße (MM)" ["description"]=> NULL ["position"]=> int(0) ["options"]=> array(1) { [0]=> array(6) { ["id"]=> int(3290) ["groupId"]=> int(23) ["name"]=> string(5) "60 MM" ["position"]=> int(250) ["mediaId"]=> NULL ["articles"]=> array(1) { [0]=> array(27) { ["id"]=> int(15431) ["articleId"]=> int(6969) ["unitId"]=> NULL ["number"]=> string(21) "1231000164-ROT-600-80" ["supplierNumber"]=> string(10) "1231000164" ["kind"]=> int(1) ["additionalText"]=> string(11) "60 MM / 84a" ["active"]=> bool(true) ["inStock"]=> int(0) ["stockMin"]=> int(0) ["lastStock"]=> bool(true) ["weight"]=> NULL ["width"]=> string(5) "0.000" ["len"]=> string(5) "0.000" ["height"]=> string(5) "0.000" ["ean"]=> string(13) "4053675083799" ["purchasePrice"]=> float(0) ["position"]=> int(0) ["minPurchase"]=> int(1) ["purchaseSteps"]=> int(1) ["maxPurchase"]=> NULL ["purchaseUnit"]=> NULL ["referenceUnit"]=> NULL ["packUnit"]=> string(4) "Stk." ["shippingFree"]=> bool(false) ["releaseDate"]=> object(DateTime)#3219 (3) { ["date"]=> string(26) "2016-12-31 00:00:00.000000" ["timezone_type"]=> int(3) ["timezone"]=> string(13) "Europe/Berlin" } ["shippingTime"]=> string(1) "0" } } } } } [1]=> array(5) { ["id"]=> int(26) ["name"]=> string(15) "Wheel Durometer" ["description"]=> NULL ["position"]=> int(0) ["options"]=> array(1) { [0]=> array(6) { ["id"]=> int(760) ["groupId"]=> int(26) ["name"]=> string(3) "84a" ["position"]=> int(250) ["mediaId"]=> NULL ["articles"]=> array(1) { [0]=> array(27) { ["id"]=> int(15431) ["articleId"]=> int(6969) ["unitId"]=> NULL ["number"]=> string(21) "1231000164-ROT-600-80" ["supplierNumber"]=> string(10) "1231000164" ["kind"]=> int(1) ["additionalText"]=> string(11) "60 MM / 84a" ["active"]=> bool(true) ["inStock"]=> int(0) ["stockMin"]=> int(0) ["lastStock"]=> bool(true) ["weight"]=> NULL ["width"]=> string(5) "0.000" ["len"]=> string(5) "0.000" ["height"]=> string(5) "0.000" ["ean"]=> string(13) "4053675083799" ["purchasePrice"]=> float(0) ["position"]=> int(0) ["minPurchase"]=> int(1) ["purchaseSteps"]=> int(1) ["maxPurchase"]=> NULL ["purchaseUnit"]=> NULL ["referenceUnit"]=> NULL ["packUnit"]=> string(4) "Stk." ["shippingFree"]=> bool(false) ["releaseDate"]=> object(DateTime)#3220 (3) { ["date"]=> string(26) "2016-12-31 00:00:00.000000" ["timezone_type"]=> int(3) ["timezone"]=> string(13) "Europe/Berlin" } ["shippingTime"]=> string(1) "0" } } } } } } array(2) { [0]=> array(5) { ["id"]=> int(24) ["name"]=> string(19) "Trucksize Longboard" ["description"]=> NULL ["position"]=> int(0) ["options"]=> array(1) { [0]=> array(6) { ["id"]=> int(745) ["groupId"]=> int(24) ["name"]=> string(6) "180 MM" ["position"]=> int(190) ["mediaId"]=> NULL ["articles"]=> array(1) { [0]=> array(27) { ["id"]=> int(4531) ["articleId"]=> int(967) ["unitId"]=> NULL ["number"]=> string(17) "1221000058-180-42" ["supplierNumber"]=> string(10) "1221000058" ["kind"]=> int(1) ["additionalText"]=> string(13) "180 MM / 42°" ["active"]=> bool(true) ["inStock"]=> int(0) ["stockMin"]=> NULL ["lastStock"]=> bool(true) ["weight"]=> NULL ["width"]=> string(5) "0.000" ["len"]=> string(5) "0.000" ["height"]=> string(5) "0.000" ["ean"]=> string(13) "4053675053570" ["purchasePrice"]=> float(0) ["position"]=> int(0) ["minPurchase"]=> int(1) ["purchaseSteps"]=> int(1) ["maxPurchase"]=> NULL ["purchaseUnit"]=> NULL ["referenceUnit"]=> NULL ["packUnit"]=> string(4) "Stk." ["shippingFree"]=> bool(false) ["releaseDate"]=> object(DateTime)#3233 (3) { ["date"]=> string(26) "2016-03-31 00:00:00.000000" ["timezone_type"]=> int(3) ["timezone"]=> string(13) "Europe/Berlin" } ["shippingTime"]=> string(1) "0" } } } } } [1]=> array(5) { ["id"]=> int(25) ["name"]=> string(10) "Truckangle" ["description"]=> NULL ["position"]=> int(0) ["options"]=> array(1) { [0]=> array(6) { ["id"]=> int(746) ["groupId"]=> int(25) ["name"]=> string(4) "42°" ["position"]=> int(300) ["mediaId"]=> NULL ["articles"]=> array(1) { [0]=> array(27) { ["id"]=> int(4531) ["articleId"]=> int(967) ["unitId"]=> NULL ["number"]=> string(17) "1221000058-180-42" ["supplierNumber"]=> string(10) "1221000058" ["kind"]=> int(1) ["additionalText"]=> string(13) "180 MM / 42°" ["active"]=> bool(true) ["inStock"]=> int(0) ["stockMin"]=> NULL ["lastStock"]=> bool(true) ["weight"]=> NULL ["width"]=> string(5) "0.000" ["len"]=> string(5) "0.000" ["height"]=> string(5) "0.000" ["ean"]=> string(13) "4053675053570" ["purchasePrice"]=> float(0) ["position"]=> int(0) ["minPurchase"]=> int(1) ["purchaseSteps"]=> int(1) ["maxPurchase"]=> NULL ["purchaseUnit"]=> NULL ["referenceUnit"]=> NULL ["packUnit"]=> string(4) "Stk." ["shippingFree"]=> bool(false) ["releaseDate"]=> object(DateTime)#3234 (3) { ["date"]=> string(26) "2016-03-31 00:00:00.000000" ["timezone_type"]=> int(3) ["timezone"]=> string(13) "Europe/Berlin" } ["shippingTime"]=> string(1) "0" } } } } } }