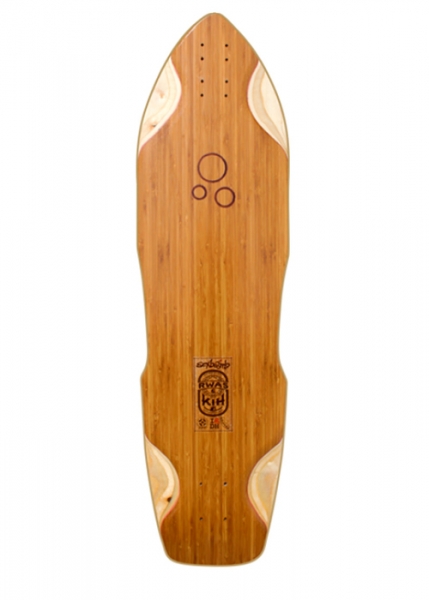 This product is currently not available.
Order number:

1211000339

Previous MDCN Artikelnumber:

1211000339
Holesome Longboards and Supplies stehen für Spaß auf vier Rollen und einem Schmunzeln dabei....
more
Product information "Holesom Deck Sexbomb"
Holesome Longboards and Supplies stehen für Spaß auf vier Rollen und einem Schmunzeln dabei. Getreu ihrem Motto Lächle bei jedem Ride und bleib Holesom (löchrig) fordert die Marke aus Kalifornien dazu auf, sich jedes Mal wenn man ein Board mit vier Rollen unter den Füßen hat glücklich zu schätzen, Spaß zu haben, steezy zu bleiben und dabei immer dankbar zu sein für den Spaß den man hat :)Hier kommt das Sexbomb-Longboarddeck aus der Downhill- und Freerideserie von Holesom. Im Namen versteckt befindet sich auch der Zweck für den sich das Board am besten eignet, nämlich zum bomben von Hügeln, zum freeriden, für Slidejams zum cruisen und sogar zum tricksen. Denn das Deck kommt mit einem voll funktionalen Kicktail, das dir Kicks, Flips und Turns erlaubt wenn du Lust darauf bekommst. Mit seiner Konstruktion aus Bambus und Hanffasern ist es super steif und ideal geeignet für hohe Geschwindigkeiten. Das direktionale Shape hat eine besondere Form mit knackiger Vespen-Taille die das Deck noch leichter und angenehmer zum kicken und flippen macht. Es kommt mit ausgefrästen Wheelwells um dich auch bei stärkstem Achseinschlag vor unbequemen Wheelbites zu bewahren. Das Deck wird als Topmount-Board aufgebaut und biete sehr direktes Lenkverhalten und kontrollierte Slides. Die Wheelbase beitet dir verschiedene Optionen und die Möglichkeit, deine perfekte Einstellung zu finden. Es wurde mit leichtem Rocker konstruiert und bietet ein schönes Concave zwischen den Rails um deine Füße perfekt einzulocken und dir eine Fülle an Druckpunkten für deine Slides zu bieten. Das Tail ist breit gehalten damit dein ganzer Fuß darauf Platz hat. So wird das Sexbomb zu einem Allrounder der dir von Cruising über Freestyle bis zu seinen Lieblingsdisziplinen Downhill und Freeride alles ermöglicht. Jump on the Sexbomb!Downhill- und Freeride LongboardVoll-funktionales KicktailBambus- und HanfkonstruktionDirektionales Shape macht Deck leicht Rocker und Concave35.65 Inch kicktail Freeride/DH Deck35.65 Inch with wheelbases 23.5 Inch, 24.5 Inch, 25.25 Inch. Stiff9.7 Inch at widest point, 11/16 Inch concave, mild rocker, wide tail kick. Holesom design/LBL crafted collaboration.
Related links to "Holesom Deck Sexbomb"
array(2) { [0]=> array(5) { ["id"]=> int(24) ["name"]=> string(19) "Trucksize Longboard" ["description"]=> NULL ["position"]=> int(0) ["options"]=> array(1) { [0]=> array(6) { ["id"]=> int(745) ["groupId"]=> int(24) ["name"]=> string(6) "180 MM" ["position"]=> int(190) ["mediaId"]=> NULL ["articles"]=> array(1) { [0]=> array(27) { ["id"]=> int(151331) ["articleId"]=> int(79565) ["unitId"]=> NULL ["number"]=> string(14) "340607-008-180" ["supplierNumber"]=> NULL ["kind"]=> int(1) ["additionalText"]=> string(13) "180 MM / 50°" ["active"]=> bool(true) ["inStock"]=> int(0) ["stockMin"]=> NULL ["lastStock"]=> bool(true) ["weight"]=> NULL ["width"]=> string(5) "0.000" ["len"]=> string(5) "0.000" ["height"]=> string(5) "0.000" ["ean"]=> string(13) "4059173003147" ["purchasePrice"]=> float(0) ["position"]=> int(0) ["minPurchase"]=> int(1) ["purchaseSteps"]=> int(1) ["maxPurchase"]=> NULL ["purchaseUnit"]=> NULL ["referenceUnit"]=> NULL ["packUnit"]=> string(4) "Stk." ["shippingFree"]=> bool(false) ["releaseDate"]=> object(DateTime)#3578 (3) { ["date"]=> string(26) "2016-12-31 00:00:00.000000" ["timezone_type"]=> int(3) ["timezone"]=> string(13) "Europe/Berlin" } ["shippingTime"]=> string(1) "0" } } } } } [1]=> array(5) { ["id"]=> int(25) ["name"]=> string(10) "Truckangle" ["description"]=> NULL ["position"]=> int(0) ["options"]=> array(1) { [0]=> array(6) { ["id"]=> int(747) ["groupId"]=> int(25) ["name"]=> string(4) "50°" ["position"]=> int(1100) ["mediaId"]=> NULL ["articles"]=> array(1) { [0]=> array(27) { ["id"]=> int(151331) ["articleId"]=> int(79565) ["unitId"]=> NULL ["number"]=> string(14) "340607-008-180" ["supplierNumber"]=> NULL ["kind"]=> int(1) ["additionalText"]=> string(13) "180 MM / 50°" ["active"]=> bool(true) ["inStock"]=> int(0) ["stockMin"]=> NULL ["lastStock"]=> bool(true) ["weight"]=> NULL ["width"]=> string(5) "0.000" ["len"]=> string(5) "0.000" ["height"]=> string(5) "0.000" ["ean"]=> string(13) "4059173003147" ["purchasePrice"]=> float(0) ["position"]=> int(0) ["minPurchase"]=> int(1) ["purchaseSteps"]=> int(1) ["maxPurchase"]=> NULL ["purchaseUnit"]=> NULL ["referenceUnit"]=> NULL ["packUnit"]=> string(4) "Stk." ["shippingFree"]=> bool(false) ["releaseDate"]=> object(DateTime)#3579 (3) { ["date"]=> string(26) "2016-12-31 00:00:00.000000" ["timezone_type"]=> int(3) ["timezone"]=> string(13) "Europe/Berlin" } ["shippingTime"]=> string(1) "0" } } } } } } array(2) { [0]=> array(5) { ["id"]=> int(23) ["name"]=> string(17) "Wheelgröße (MM)" ["description"]=> NULL ["position"]=> int(0) ["options"]=> array(1) { [0]=> array(6) { ["id"]=> int(3290) ["groupId"]=> int(23) ["name"]=> string(5) "60 MM" ["position"]=> int(250) ["mediaId"]=> NULL ["articles"]=> array(1) { [0]=> array(27) { ["id"]=> int(15431) ["articleId"]=> int(6969) ["unitId"]=> NULL ["number"]=> string(21) "1231000164-ROT-600-80" ["supplierNumber"]=> string(10) "1231000164" ["kind"]=> int(1) ["additionalText"]=> string(11) "60 MM / 84a" ["active"]=> bool(true) ["inStock"]=> int(0) ["stockMin"]=> int(0) ["lastStock"]=> bool(true) ["weight"]=> NULL ["width"]=> string(5) "0.000" ["len"]=> string(5) "0.000" ["height"]=> string(5) "0.000" ["ean"]=> string(13) "4053675083799" ["purchasePrice"]=> float(0) ["position"]=> int(0) ["minPurchase"]=> int(1) ["purchaseSteps"]=> int(1) ["maxPurchase"]=> NULL ["purchaseUnit"]=> NULL ["referenceUnit"]=> NULL ["packUnit"]=> string(4) "Stk." ["shippingFree"]=> bool(false) ["releaseDate"]=> object(DateTime)#3599 (3) { ["date"]=> string(26) "2016-12-31 00:00:00.000000" ["timezone_type"]=> int(3) ["timezone"]=> string(13) "Europe/Berlin" } ["shippingTime"]=> string(1) "0" } } } } } [1]=> array(5) { ["id"]=> int(26) ["name"]=> string(15) "Wheel Durometer" ["description"]=> NULL ["position"]=> int(0) ["options"]=> array(1) { [0]=> array(6) { ["id"]=> int(760) ["groupId"]=> int(26) ["name"]=> string(3) "84a" ["position"]=> int(250) ["mediaId"]=> NULL ["articles"]=> array(1) { [0]=> array(27) { ["id"]=> int(15431) ["articleId"]=> int(6969) ["unitId"]=> NULL ["number"]=> string(21) "1231000164-ROT-600-80" ["supplierNumber"]=> string(10) "1231000164" ["kind"]=> int(1) ["additionalText"]=> string(11) "60 MM / 84a" ["active"]=> bool(true) ["inStock"]=> int(0) ["stockMin"]=> int(0) ["lastStock"]=> bool(true) ["weight"]=> NULL ["width"]=> string(5) "0.000" ["len"]=> string(5) "0.000" ["height"]=> string(5) "0.000" ["ean"]=> string(13) "4053675083799" ["purchasePrice"]=> float(0) ["position"]=> int(0) ["minPurchase"]=> int(1) ["purchaseSteps"]=> int(1) ["maxPurchase"]=> NULL ["purchaseUnit"]=> NULL ["referenceUnit"]=> NULL ["packUnit"]=> string(4) "Stk." ["shippingFree"]=> bool(false) ["releaseDate"]=> object(DateTime)#3600 (3) { ["date"]=> string(26) "2016-12-31 00:00:00.000000" ["timezone_type"]=> int(3) ["timezone"]=> string(13) "Europe/Berlin" } ["shippingTime"]=> string(1) "0" } } } } } } array(2) { [0]=> array(5) { ["id"]=> int(24) ["name"]=> string(19) "Trucksize Longboard" ["description"]=> NULL ["position"]=> int(0) ["options"]=> array(1) { [0]=> array(6) { ["id"]=> int(745) ["groupId"]=> int(24) ["name"]=> string(6) "180 MM" ["position"]=> int(190) ["mediaId"]=> NULL ["articles"]=> array(1) { [0]=> array(27) { ["id"]=> int(4535) ["articleId"]=> int(971) ["unitId"]=> NULL ["number"]=> string(21) "1221000059-BLK-180-50" ["supplierNumber"]=> string(10) "1221000059" ["kind"]=> int(1) ["additionalText"]=> string(13) "180 MM / 50°" ["active"]=> bool(true) ["inStock"]=> int(0) ["stockMin"]=> NULL ["lastStock"]=> bool(true) ["weight"]=> NULL ["width"]=> string(5) "0.000" ["len"]=> string(5) "0.000" ["height"]=> string(5) "0.000" ["ean"]=> string(13) "4053675053594" ["purchasePrice"]=> float(0) ["position"]=> int(0) ["minPurchase"]=> int(1) ["purchaseSteps"]=> int(1) ["maxPurchase"]=> NULL ["purchaseUnit"]=> NULL ["referenceUnit"]=> NULL ["packUnit"]=> string(4) "Stk." ["shippingFree"]=> bool(false) ["releaseDate"]=> object(DateTime)#3609 (3) { ["date"]=> string(26) "2016-03-31 00:00:00.000000" ["timezone_type"]=> int(3) ["timezone"]=> string(13) "Europe/Berlin" } ["shippingTime"]=> string(1) "0" } } } } } [1]=> array(5) { ["id"]=> int(25) ["name"]=> string(10) "Truckangle" ["description"]=> NULL ["position"]=> int(0) ["options"]=> array(1) { [0]=> array(6) { ["id"]=> int(747) ["groupId"]=> int(25) ["name"]=> string(4) "50°" ["position"]=> int(1100) ["mediaId"]=> NULL ["articles"]=> array(1) { [0]=> array(27) { ["id"]=> int(4535) ["articleId"]=> int(971) ["unitId"]=> NULL ["number"]=> string(21) "1221000059-BLK-180-50" ["supplierNumber"]=> string(10) "1221000059" ["kind"]=> int(1) ["additionalText"]=> string(13) "180 MM / 50°" ["active"]=> bool(true) ["inStock"]=> int(0) ["stockMin"]=> NULL ["lastStock"]=> bool(true) ["weight"]=> NULL ["width"]=> string(5) "0.000" ["len"]=> string(5) "0.000" ["height"]=> string(5) "0.000" ["ean"]=> string(13) "4053675053594" ["purchasePrice"]=> float(0) ["position"]=> int(0) ["minPurchase"]=> int(1) ["purchaseSteps"]=> int(1) ["maxPurchase"]=> NULL ["purchaseUnit"]=> NULL ["referenceUnit"]=> NULL ["packUnit"]=> string(4) "Stk." ["shippingFree"]=> bool(false) ["releaseDate"]=> object(DateTime)#3610 (3) { ["date"]=> string(26) "2016-03-31 00:00:00.000000" ["timezone_type"]=> int(3) ["timezone"]=> string(13) "Europe/Berlin" } ["shippingTime"]=> string(1) "0" } } } } } } array(2) { [0]=> array(5) { ["id"]=> int(24) ["name"]=> string(19) "Trucksize Longboard" ["description"]=> NULL ["position"]=> int(0) ["options"]=> array(1) { [0]=> array(6) { ["id"]=> int(745) ["groupId"]=> int(24) ["name"]=> string(6) "180 MM" ["position"]=> int(190) ["mediaId"]=> NULL ["articles"]=> array(1) { [0]=> array(27) { ["id"]=> int(4531) ["articleId"]=> int(967) ["unitId"]=> NULL ["number"]=> string(17) "1221000058-180-42" ["supplierNumber"]=> string(10) "1221000058" ["kind"]=> int(1) ["additionalText"]=> string(13) "180 MM / 42°" ["active"]=> bool(true) ["inStock"]=> int(0) ["stockMin"]=> NULL ["lastStock"]=> bool(true) ["weight"]=> NULL ["width"]=> string(5) "0.000" ["len"]=> string(5) "0.000" ["height"]=> string(5) "0.000" ["ean"]=> string(13) "4053675053570" ["purchasePrice"]=> float(0) ["position"]=> int(0) ["minPurchase"]=> int(1) ["purchaseSteps"]=> int(1) ["maxPurchase"]=> NULL ["purchaseUnit"]=> NULL ["referenceUnit"]=> NULL ["packUnit"]=> string(4) "Stk." ["shippingFree"]=> bool(false) ["releaseDate"]=> object(DateTime)#3614 (3) { ["date"]=> string(26) "2016-03-31 00:00:00.000000" ["timezone_type"]=> int(3) ["timezone"]=> string(13) "Europe/Berlin" } ["shippingTime"]=> string(1) "0" } } } } } [1]=> array(5) { ["id"]=> int(25) ["name"]=> string(10) "Truckangle" ["description"]=> NULL ["position"]=> int(0) ["options"]=> array(1) { [0]=> array(6) { ["id"]=> int(746) ["groupId"]=> int(25) ["name"]=> string(4) "42°" ["position"]=> int(300) ["mediaId"]=> NULL ["articles"]=> array(1) { [0]=> array(27) { ["id"]=> int(4531) ["articleId"]=> int(967) ["unitId"]=> NULL ["number"]=> string(17) "1221000058-180-42" ["supplierNumber"]=> string(10) "1221000058" ["kind"]=> int(1) ["additionalText"]=> string(13) "180 MM / 42°" ["active"]=> bool(true) ["inStock"]=> int(0) ["stockMin"]=> NULL ["lastStock"]=> bool(true) ["weight"]=> NULL ["width"]=> string(5) "0.000" ["len"]=> string(5) "0.000" ["height"]=> string(5) "0.000" ["ean"]=> string(13) "4053675053570" ["purchasePrice"]=> float(0) ["position"]=> int(0) ["minPurchase"]=> int(1) ["purchaseSteps"]=> int(1) ["maxPurchase"]=> NULL ["purchaseUnit"]=> NULL ["referenceUnit"]=> NULL ["packUnit"]=> string(4) "Stk." ["shippingFree"]=> bool(false) ["releaseDate"]=> object(DateTime)#3615 (3) { ["date"]=> string(26) "2016-03-31 00:00:00.000000" ["timezone_type"]=> int(3) ["timezone"]=> string(13) "Europe/Berlin" } ["shippingTime"]=> string(1) "0" } } } } } } array(2) { [0]=> array(5) { ["id"]=> int(24) ["name"]=> string(19) "Trucksize Longboard" ["description"]=> NULL ["position"]=> int(0) ["options"]=> array(2) { [0]=> array(6) { ["id"]=> int(744) ["groupId"]=> int(24) ["name"]=> string(6) "150 MM" ["position"]=> int(120) ["mediaId"]=> NULL ["articles"]=> array(1) { [0]=> array(27) { ["id"]=> int(16660518) ["articleId"]=> int(894) ["unitId"]=> NULL ["number"]=> string(17) "1221000005-150-50" ["supplierNumber"]=> string(10) "1221000005" ["kind"]=> int(1) ["additionalText"]=> string(13) "150 MM / 50°" ["active"]=> bool(true) ["inStock"]=> int(0) ["stockMin"]=> NULL ["lastStock"]=> bool(true) ["weight"]=> NULL ["width"]=> string(5) "0.000" ["len"]=> string(5) "0.000" ["height"]=> string(5) "0.000" ["ean"]=> string(13) "4053675065917" ["purchasePrice"]=> float(0) ["position"]=> int(0) ["minPurchase"]=> int(1) ["purchaseSteps"]=> int(1) ["maxPurchase"]=> NULL ["purchaseUnit"]=> NULL ["referenceUnit"]=> NULL ["packUnit"]=> string(4) "Stk." ["shippingFree"]=> bool(false) ["releaseDate"]=> object(DateTime)#3617 (3) { ["date"]=> string(26) "2016-03-31 00:00:00.000000" ["timezone_type"]=> int(3) ["timezone"]=> string(13) "Europe/Berlin" } ["shippingTime"]=> string(1) "0" } } } [1]=> array(6) { ["id"]=> int(745) ["groupId"]=> int(24) ["name"]=> string(6) "180 MM" ["position"]=> int(190) ["mediaId"]=> NULL ["articles"]=> array(1) { [0]=> array(27) { ["id"]=> int(16675362) ["articleId"]=> int(894) ["unitId"]=> NULL ["number"]=> string(17) "1221000005-180-50" ["supplierNumber"]=> string(10) "1221000005" ["kind"]=> int(2) ["additionalText"]=> string(13) "180 MM / 50°" ["active"]=> bool(true) ["inStock"]=> int(0) ["stockMin"]=> NULL ["lastStock"]=> bool(true) ["weight"]=> NULL ["width"]=> string(5) "0.000" ["len"]=> string(5) "0.000" ["height"]=> string(5) "0.000" ["ean"]=> string(13) "4053675065900" ["purchasePrice"]=> float(0) ["position"]=> int(0) ["minPurchase"]=> int(1) ["purchaseSteps"]=> int(1) ["maxPurchase"]=> NULL ["purchaseUnit"]=> NULL ["referenceUnit"]=> NULL ["packUnit"]=> string(4) "Stk." ["shippingFree"]=> bool(false) ["releaseDate"]=> object(DateTime)#3618 (3) { ["date"]=> string(26) "2016-03-31 00:00:00.000000" ["timezone_type"]=> int(3) ["timezone"]=> string(13) "Europe/Berlin" } ["shippingTime"]=> string(1) "0" } } } } } [1]=> array(5) { ["id"]=> int(25) ["name"]=> string(10) "Truckangle" ["description"]=> NULL ["position"]=> int(0) ["options"]=> array(1) { [0]=> array(6) { ["id"]=> int(747) ["groupId"]=> int(25) ["name"]=> string(4) "50°" ["position"]=> int(1100) ["mediaId"]=> NULL ["articles"]=> array(2) { [0]=> array(27) { ["id"]=> int(16660518) ["articleId"]=> int(894) ["unitId"]=> NULL ["number"]=> string(17) "1221000005-150-50" ["supplierNumber"]=> string(10) "1221000005" ["kind"]=> int(1) ["additionalText"]=> string(13) "150 MM / 50°" ["active"]=> bool(true) ["inStock"]=> int(0) ["stockMin"]=> NULL ["lastStock"]=> bool(true) ["weight"]=> NULL ["width"]=> string(5) "0.000" ["len"]=> string(5) "0.000" ["height"]=> string(5) "0.000" ["ean"]=> string(13) "4053675065917" ["purchasePrice"]=> float(0) ["position"]=> int(0) ["minPurchase"]=> int(1) ["purchaseSteps"]=> int(1) ["maxPurchase"]=> NULL ["purchaseUnit"]=> NULL ["referenceUnit"]=> NULL ["packUnit"]=> string(4) "Stk." ["shippingFree"]=> bool(false) ["releaseDate"]=> object(DateTime)#3619 (3) { ["date"]=> string(26) "2016-03-31 00:00:00.000000" ["timezone_type"]=> int(3) ["timezone"]=> string(13) "Europe/Berlin" } ["shippingTime"]=> string(1) "0" } [1]=> array(27) { ["id"]=> int(16675362) ["articleId"]=> int(894) ["unitId"]=> NULL ["number"]=> string(17) "1221000005-180-50" ["supplierNumber"]=> string(10) "1221000005" ["kind"]=> int(2) ["additionalText"]=> string(13) "180 MM / 50°" ["active"]=> bool(true) ["inStock"]=> int(0) ["stockMin"]=> NULL ["lastStock"]=> bool(true) ["weight"]=> NULL ["width"]=> string(5) "0.000" ["len"]=> string(5) "0.000" ["height"]=> string(5) "0.000" ["ean"]=> string(13) "4053675065900" ["purchasePrice"]=> float(0) ["position"]=> int(0) ["minPurchase"]=> int(1) ["purchaseSteps"]=> int(1) ["maxPurchase"]=> NULL ["purchaseUnit"]=> NULL ["referenceUnit"]=> NULL ["packUnit"]=> string(4) "Stk." ["shippingFree"]=> bool(false) ["releaseDate"]=> object(DateTime)#3620 (3) { ["date"]=> string(26) "2016-03-31 00:00:00.000000" ["timezone_type"]=> int(3) ["timezone"]=> string(13) "Europe/Berlin" } ["shippingTime"]=> string(1) "0" } } } } } }