HOLESOM - Slidepucks Bubblegum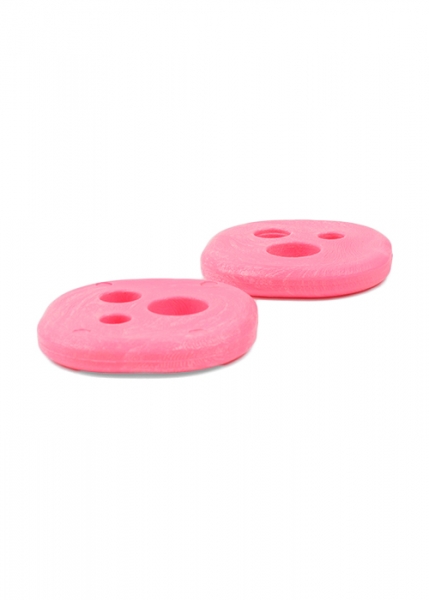 This product is currently not available.
Order number:

1361001012-BUBBLE

Previous MDCN Artikelnumber:

1361001012
Holesome Longboards and Supplies stehen für Spaß auf vier Rollen und einem Schmunzeln dabei....
more
Product information "HOLESOM - Slidepucks Bubblegum"
Holesome Longboards and Supplies stehen für Spaß auf vier Rollen und einem Schmunzeln dabei. Getreu ihrem Motto Lächle bei jedem Ride und bleib Holesom (löchrig) fordert die Marke aus Kalifornien dazu auf, sich jedes Mal wenn man ein Board mit vier Rollen unter den Füßen hat glücklich zu schätzen, Spaß zu haben, steezy zu bleiben und dabei immer dankbar zu sein für den Spaß den man hat :)Die Holesome Slidepucks bringen nicht nur bunte Farben auf deinen Slidehandschuh sondern duften dabei auch noch lecker. Einfach nur zum Spaß haben die Slidepucks von Holesome nämlich eine ganz eigene Duftmarke bekommen, die dich bei jedem Schnuppern zurück in den letzten Surf-Urlaub bringen. Der Gründer von Holesom hatte genau dies im Sinne als er irgendwann mal ein Stück Surfwax in den Händen hielt und sich dachte, dass Form und Größe einem Slidepuck sehr ähnlich kommen. Kurzerhand beschloss er auszuprobieren ob man Pucks nicht auch zum duften bekommt und siehe da - es funktioniert. Jede Farbe hat ihren eigenen Duft und so kannst du dir deine Lieblingskomposition schaffen. Über Blueberry Pancake, Frootloops, Kakaobutter-Bräunungsöl bis hin zu Bubblegum oder schlicht und einfach Banane - die Duftpalette der Pucks bietet jeder Nase ihren Lieblingsduft. Gefertigt sind die Pucks aus hochwertigem Delrin und halten somit besonders lange. Die Form ist abgerundet und rutscht daher problemlos über Risse und Kanten. Auch die Lieblingsfarb- und Duftkombination von Downhill-Profi Patrick Switzer ist erhältlich und kombiniert seine Farben blau und orange mit den Düften von Blueberry Pancake und Dreamsickle. Schnapp sie dir und hinterlasse deine persönliche Duftmarke nach jedem Slide!In bunten Farben erhältlichJede Farbe hat einen anderen Duft Aus hochwertigem Delrin Lange HaltbarkeitSpezielle Form vermeidet VerkantungForm: squircle (in between a square and a circle)Größe: 3 5/8 inches von Kante zu Kante, 3 9/16 inches von Ecke zu EckeStärke: 1/2 inchMaterial: Delrin plus (proprietary blend)Farbe/Duft : Pswiss : 1x Neonoranger Puck/ Dreamsickle, 1x Carribeanblue Puck/Blueberry PancakesFruit : 1x Neonlimegreen Puck/Keylime Pie, 1x Lila Puck/FrootloopsGlow : 2x Leuchtpucks/ZimtTropic : 1x Brauner Puck/Kakaobutter-Bräungungsölduft, 1x Gelber Puck/BananeBubblegum: 2x Softneonpinke Pucks/Bubblegum
Related links to "HOLESOM - Slidepucks Bubblegum"